American Antiques & Jewelry
Retail – Remodel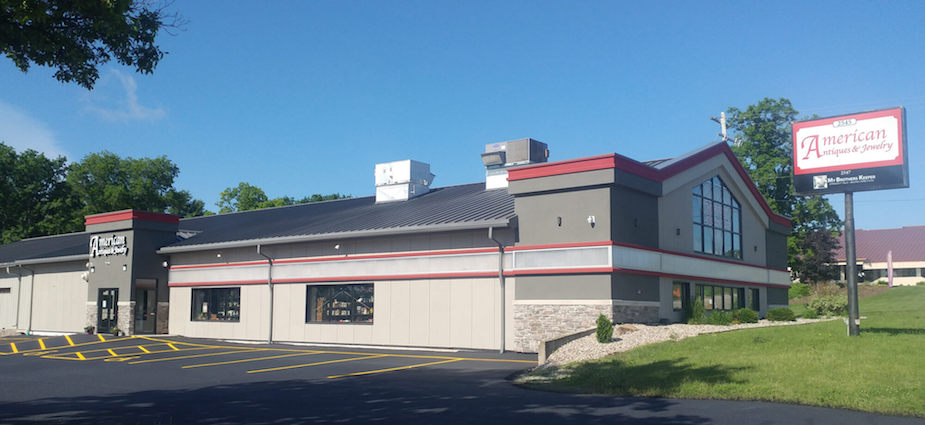 Services Provided
Crane & Lift
Demolition
Electrical
Excavation / Backfill
Foundation
HVAC
Masonry/Stone Work
Painting
Plumbing
Roofing
Rough Carpentry
Siding
Steel Erection
Trim/Finish Carpentry
Walks & Patio
Highlights
Location: 2545 West Mason Street

Remodel Size: 7,754 sq. ft.

Building Addition Size: 4,500 sq. ft.

Project Timeline: 8 months
A true success story, Green Bay-based American Antiques & Jewelry has been in business for 28 years. Thanks to continued e-commerce and retail sales growth, their building and warehouse space could no longer accommodate their needs. Owner Mark Rothe began looking for a different building with more space—and he didn't have to go far! Mark found the perfect building just three miles away, and even on the same street. However, it needed a lot of work to turn it into a retail space that would provide a welcoming, comfortable environment for shoppers. The building had been vacant for years, falling into disrepair, and before that numerous tenants had undertaken various remodeling projects, including electrical, plumbing, and framing—making it a challenge for contractors to remodel it further. After another contractor was unable to adequately fulfill the project's requirements, Silvercrest Construction was brought on board and quickly got started.
Silvercrest Construction team members methodically sorted through the site conditions and developed a plan to efficiently address the existing conditions.  Knowing that the owner, Mark, had a less-than-ideal experience with the previous contractor, Silvercrest Construction's management team took extra care to provide close personal attention, with clear and honest communication to establish Mark's confidence that the project would be completed to his expectations.
With a plan in place, work began in earnest. Despite harsh weather conditions, crews worked throughout the winter months to build a new steel building addition, which allows Mark and his team to conveniently store merchandise on-site as well as provide office space for a non-profit tenant.
At the same time, crews were working to remodel the existing building, with a few special touches. The architect and the building owner wanted an exterior LED lighting display band added to the exterior of the retail space.  This required AmeriLux Lexan Thermoclick panels, which the architect selected for their backlighting qualities, UV resistance, overall durability, and ease of installation. It also required high output LED's and wireless control systems.  The lighting feature required a lot coordination with the EIFS contractor, electrical contractor, and lighting consultants, and ultimately it worked as planned, adding a unique curb appeal at night and during the day.
Interior lighting was also important to highlight the beautiful antique jewelry and other items being sold. Silvercrest Construction and the electrical contractor worked with the owner to ensure proper electrical was in place for all the display cases, including a large quantity of track lighting, power poles, and cord drops. Working with lighting consultants, Silvercrest Construction provided 5 separate lighting control areas to give the owner custom control over the lighting band.
Care was taken to make the newly remodeled space comfortable for staff as well, including the office doggie, Stella! Workers installed a custom dog door in Mark's office to allow Stella easy access.
Due to the high-value nature of the products, special care was taken with security throughout construction, and crews also installed a large, secure vault for storing high value antiquities.
To the delight of store owner Mark Rothe, and his many loyal customers, Silvercrest Construction was able to provide the necessary planning, equipment, and manpower to breathe new life into this long-overdue project. The result? A beautiful new store with more space for storing and displaying products—and one happy office dog.
Other project partners included:
Ian Wilson of Nolan Carter Architectural Design – Architect
K&B Electric
Brown County Plumbing
Baumgart Heating and Cooling
JW Flooring
Acoustic Professionals
Promer Drywall and Plastering
Tri-City Window and Door
Selecting Plastering Corporation
City Wide Insulation
JW Weyers Construction
Davis Painting & Decorating
Custom Laminating Specialists